Author: Benjamin Rangel
The 2019 Los Angeles Auto Show is open to the public at the LA Convention Center from Nov. 22 through Dec. 1. It will also be open on Thanksgiving Day from 8 a.m. to 4 p.m. Just in case you feel the need to get in some steps. You can easily do over 6000 steps for those counting. So, let's talk LA auto show.
The LA Auto Show has a long history that dates back to 1907. The first auto show was held at Morley's Skating Rink on Grand Avenue. Each year, the fun and excitement kick off with AutoMobility LA, the auto show's advanced showing of automotive debuts and trade days. That's when the vehicle debuts happen, and journalists are invited to see the cars, trucks, and SUVs ahead of the public show.
This year, the auto show will feature over 65 new vehicle premieres, which is the most in the show's history to date. That equates to 15-20 more reveals than in previous years.
This year's introductions include production models from Ford, Karma, Toyota, Audi, BMW, Genesis, and Bollinger.
While last year's auto show taught us about new ways to use transportation with car subscriptions, this year's show is about green cars, namely electric cars, and showing us everyday Southern Californians precisely what it takes to charge the vehicles. A lot of the car brands are displaying mock charging stations that allow you to see a charging station up close and personal. Additionally, it gave names of charging station providers such as Amazon home services, Electrify America and Arcadia Power.
Here is a list of the production models. All car information below was from just-auto.com database.
2019 LA Auto Show - Production Vehicle Debuts:
Alfa Romeo Giulia & Stelvio: updated interiors including larger infotainment screens but no exterior changes. These are 2020 model year changes in North America.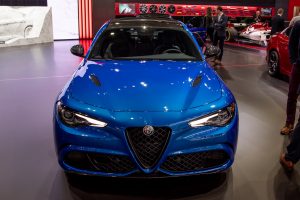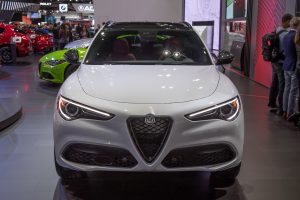 Aston Martin DBX: the brand's first SUV and the first model from AML to be made in Wales made its motor show debut in LA. The first engine to be announced is a 550PS and 700Nm AMG 4.0-litre bi-turbo V8, with a Mercedes-Benz nine-speed torque converter automatic the standard transmission.

Audi e-tron Sportback: the production version of the X17 BEV Coupé project is due on sale during the northern hemisphere spring. There are two versions called 50 (71kWh battery pack) and 55 (95kWh). These have outputs of 23bit0kW and 540Nm (398 lb-ft) or 265kW and 561Nm (414 lb-ft). The latter can be boosted to 300kW and 664Nm (490 lb-ft) for eight seconds.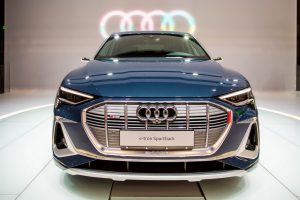 Audi RS Q8: developed to take on the likes of the BMW X6 M Competition, this big SUV supplements the SQ8 TDI at the top of the Q8 range. The Volkswagen Group's mild-hybrid 4.0-liter petrol V8 features. Outputs are 441kW (600PS) and 800Nm (590 lb-ft).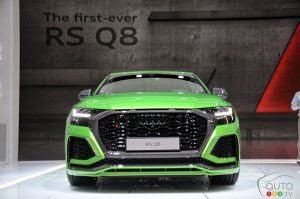 Audi S8: standard long-wheelbase for markets in North America, but the name is S8 in that region, not S8 L. The engine is a 563 horsepower and 590 lb-ft version of the Volkswagen Group's mild-hybrid bi-turbo 4.0-liter V8. In Germany, the new S8 has stated outputs of 420kW (571PS) and 800Nm.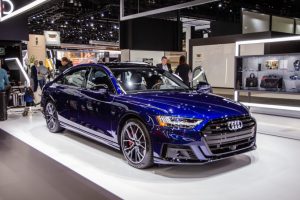 BMW 2 Series Gran Coupe: this is a 4,526mm long sedan that has pillarless doors and is a rival for the Mercedes CLA-Class. It uses the FWD/AWD Frontantriebsarchitektur (FAAR) platform. The code is F44. Unusually for a small or medium-sized BMW, there is good rear legroom, and the boot is also large (430 l). The first variants, all turbocharged, are the 218i [103kW/140hp three-cylinder petrol], 220d, [140kW/190hp four-cylinder diesel], the North America only 228i xDrive [170kW/231hp four-cylinder gasoline] and the M235i
xDrive [225kW/306hp four-cylinder petrol]. For full powertrain details, see PLDB (below).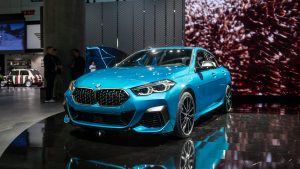 BMW M2 CS: production of this 331kW/450 horsepower (40 more than the M2 Competition) coupe doesn't commence until March, with BMW due to make only 2,200 cars. Bespoke touches include a carbon fiber bonnet and roof, as well as many unique spoilers and splitters.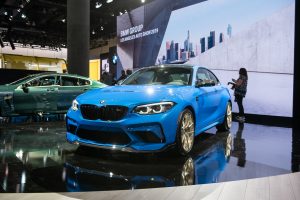 BMW M8 Gran Coupé & M8 Competition Gran Coupé: 441kW (600PS) bi-turbo V8 with a 460kW (625PS) version for the Comp. Torque for both is 750Nm (553 lb-ft), and AWD is standard.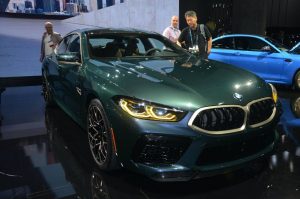 Bollinger B1 & B2: auto show premiere for these two made-in-Michigan, rugged, high-priced, slab-sided, and low-volume electric SUV/pick-up four-by-fours. Production is due to start around this time next year.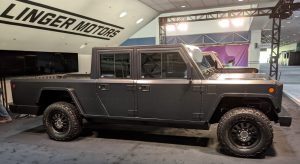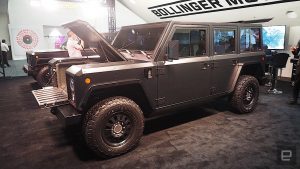 Ford Mustang Mach-E: this electric SUV will be manufactured in Mexico (Cuautitlán) from late 2020. There will also be a Lincoln equivalent. Each will use a bespoke architecture for EVs. Both 75.7kWh and 98.8kWh battery packs will feature.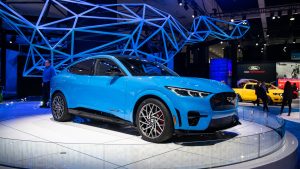 Hyundai RM19 prototype: 4,319mm long Veloster-based but mid-engined sports car claimed to be powered by a 390 horsepower 2.0-litre turbo engine.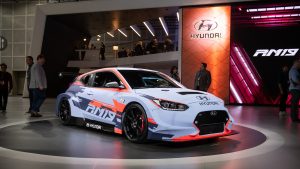 Karma Revero GTS: this higher performance variant joins the GT and will be in production in early 2020. Lexus LC 500 Convertible: won't be available until the northern hemisphere summer of 2020, and for the moment, only this V8-powered variant has been announced.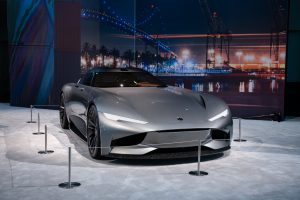 Lincoln Corsair Grand Touring: due to be in production next year and new for the 2021 model year in North America, this plug-in hybrid has a 2.5-liter engine and two motors.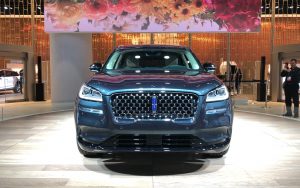 Mazda CX-9: the brand's biggest SUV gains another 10 lb-ft for a new total of 320 lb-ft, while the 2.5-liter four-cylinder engine produces the same 250hp as before.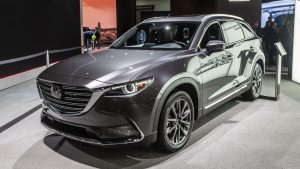 Mercedes-AMG GLE 63 4MATIC+ & GLE 63 S 4MATIC+: these join the GLE 53 4MATIC+ and are powered by a 3,982cc biturbo V8 and 16kW (22Nm) and 250Nm 'EQ Boost' starter-generator. The 63's engine produces 420kW (571hp), and the combined torque is 750Nm. Corresponding outputs for the GLE 63 S are 450kW (612hp) and 850Nm.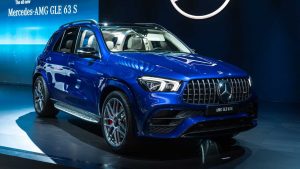 Mercedes-AMG GLS 63 4MATIC+: powered by a 450kW (612hp) 3,982cc biturbo V8 and 16kW (22hp) and 250Nm 'EQ Boost' starter-generator. Combined torque is 850Nm.
Nissan Sentra: new for the 2020 model year, the Compact sedan was seen earlier in 2019 as China's latest generation Sylphy.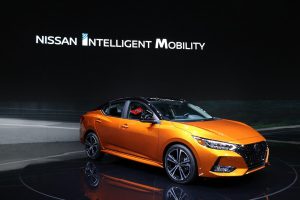 Toyota Avalon AWD: unlike the Camry, this larger sedan will not gain the option of the all-wheel-drive until the 2021 model year.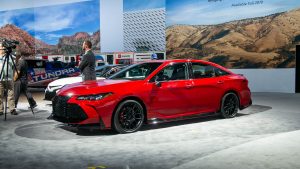 Toyota Camry AWD: the first all-wheel-drive version of this model since the 1988-1991 Camry AllTrac is new for the 2020 model year.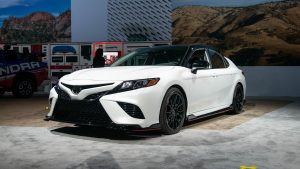 Toyota RAV4 Prime: to be added to North American markets' 2021 model year line-ups, this PHEV will be a global model.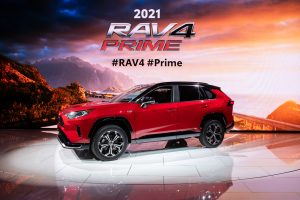 Volkswagen Atlas Cross Sport: this SUV was seen as a prototype at the New York show in March 2018, then at Auto Shanghai in April 2019 as the Teramont X concept, and was revealed by VW of America to the media on Oct. 11 as the 2020 Atlas Cross Sport. This vehicle is the first Volkswagen for a new R badge, which premieres on the R-Line trim level.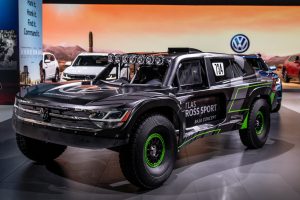 All of the brands have friendly people that are there to answer any questions you may have on any models, and there are informational displays by many of the cars with specs and the trim levels available on each model.
Besides production cars, there are concept cars that car manufacturers preview so you can see what their vision is for the next vehicles they want to put into production.
2019 LA Auto Show - Concept Cars:
Hyundai Vision T Plug-in Hybrid SUV Concept: the general outline of this so-called 'Urban Vision' design study is likely to be a preview of next year's Tucson successor.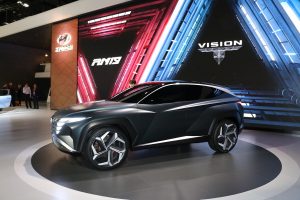 Karma SC2 Vision concept: large electric coupe has a claimed output of more than 1000 horsepower from two motors. The 120kWh battery pack provides a stated range of up to 350 miles.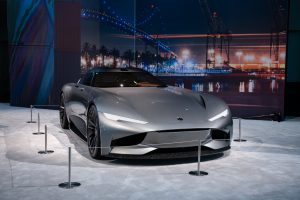 Kia Seltos Urban Concept & Seltos Trail Attack: these concepts were built to draw attention to Kia Motors America's launch of the Seltos. This 4.3m long SUV, which has been available in South Korea, India and elsewhere since earlier in 2019, will be added to MA's range for the 2021 model year.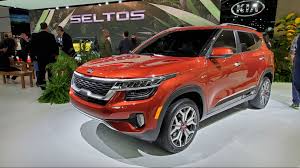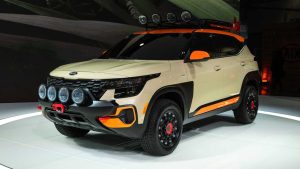 Volkswagen Space Vizzion concept: a preview of a large wagon which will use the same architecture as the ID.3 and many other Volkswagen Group electric vehicles. The production model is still two years away, so this concept merely serves as a guide to how that model will look.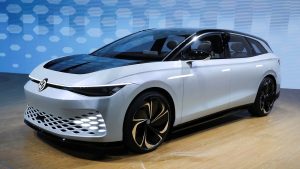 Tired of just looking at the vehicles? Well, now you can drive them too. There will be dozens of cars available for free test drives on the streets of Los Angeles during the show's run. For the first time, Tesla will be giving test drives of its popular electric vehicles. If you want to do a test drive, you will locate these areas outside of the halls. Just ask one of the friendly auto ushers for directions or review the auto show maps.
Are you looking for something fun for the too young to drive yet, part of your family? No worries, there are tons of interactive activities to keep the kids entertained as well. Those include the Acura NSX GT3 virtual reality experience, Hyundai Racing challenge, Jaguar VR racing, Dodge Bondurant Challenger simulator, Volkswagen GTI Track Challenge, Chevrolet VR Homerun Challenge, just to name a few.
Once again, the 2019 LA Auto Show opens to the public on Friday, Nov. 22, and runs through Dec. 1. We hope you have as much fun as we did.