Ford Bronco all-new in 2021
Posted Friday, Jul 24, 2020
Author: Benjamin Rangel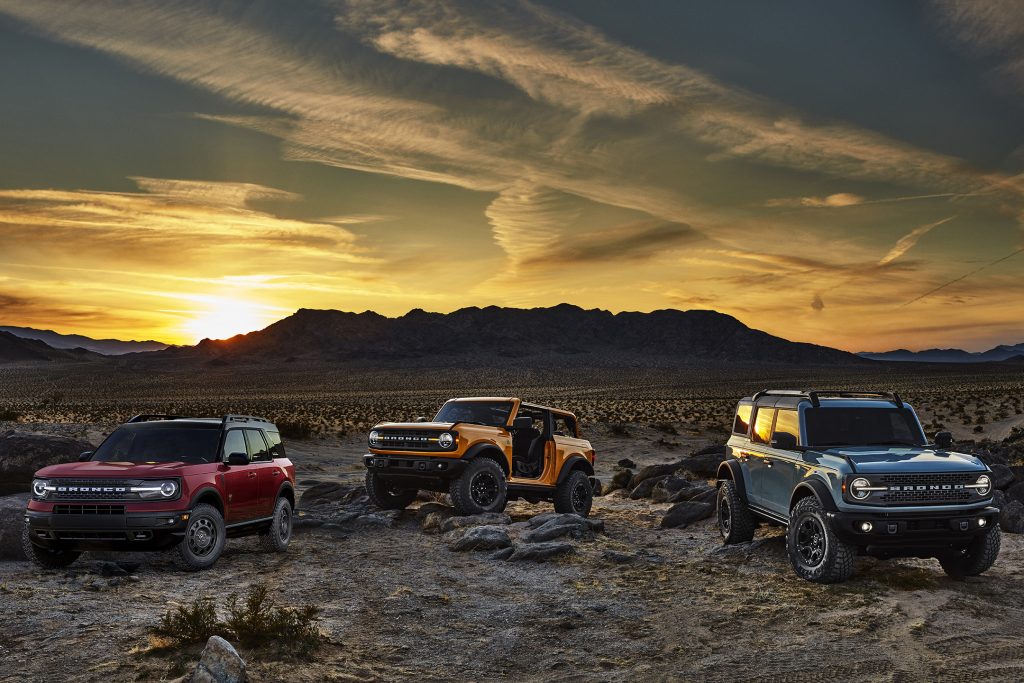 Ford has resurrected an old classic, the Ford Bronco, and will be taking reservations for 2021 in all trim levels. With impressive off-road capabilities, innovative features, and cool retro styling the 2021 Ford Bronco has the makings of the next best SUV. Before you run out and place your preorder, you might want to review each trim level, considering the base price starts at $29,995 and shoots all the way up to $64,995. 
• Base

• Two-door: $29,995

• Four-door: $34,695

• Big Bend

• Two-door: $34,880

• Four-door: $37,375

• Black Diamond

• Two-door: $37,545

• Four-door: $40,040

• Outer Banks

• Two-door: $40,450

• Four-door: $42,945

• Badlands

• Two-door: $43,590

• Four-door: $46,085

• Wildtrak

• Two-door: $50,370

• Four-door: $52,865

• First Edition

• Two-door: $60,800

• Four-door: $64,995
G.O.A.T. SYSTEM
"Bronco's advanced four-wheel-drive technology is at the core of its off-road capabilities, and at the heart of it all is Bronco's exclusive Terrain Management System™ with G.O.A.T. Modes™ that is designed to help drivers better navigate any type of terrain," said Mark Grueber, Bronco consumer marketing manager (Source: dupontregistry.com). Modes include: Normal, Eco, Slippery, Rock Crawl, and Sport, with Baja, Mud/Ruts, and Sand. The new G.O.A.T. system has two 4×4 setups: base and advanced. The base system has a two-speed electronic shift-on-the-fly transfer case, while the advanced has a two-speed electromechanical transfer case that has an auto-mode. According to Ford, auto-mode will create "on-demand engagement to select between 2H and 4H,".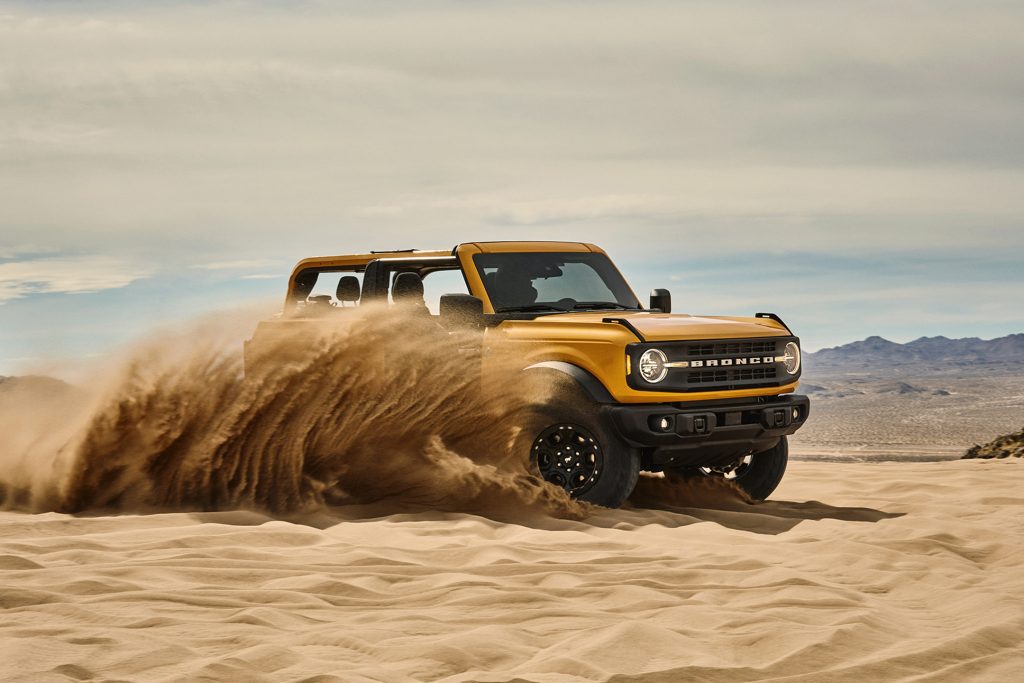 BRONCO - ENGINE
The most noteworthy question will be, "what is going on under the hood?" The standard engine is a turbocharged 2.3-liter inline-four that makes 270 horsepower and 310 lb-ft of torque. The beefed-up option is a twin-turbo 2.7-liter V-6 that generates 310 horses and 400 lb-ft. Complimenting the engines will be one's choice in the segment-exclusive 7-speed manual transmission or SelectShift 10-speed automatic transmissions.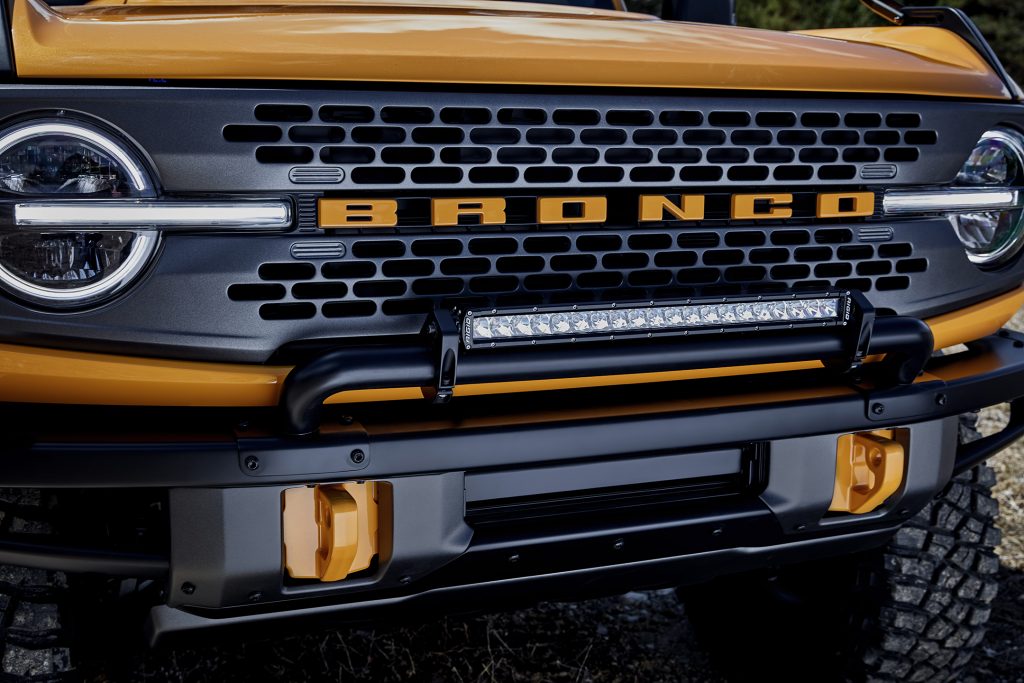 BRONCO - INTERIOR
Available with two or four doors, soft tops or hardtops, and removable body panels. The Bronco has a rack built into the top of its dashboard that allows smartphones and GoPros to be mounted with nearby 12-volt outlets. The cabin can be protected with the available rubberized flooring and marine-grade vinyl upholstery. Ford's latest in-dash Sync 4 software will power the 8.0- or 12.0-inch touchscreen that's embedded in the middle of the Broncos dashboard. The setup allows over-the-air updates and can connect to the cloud and user's smartphone wirelessly. The infotainment system also supports a host of modern infotainment features that include Apple CarPlay, Android Auto, and a subscription-based Wi-Fi hotspot.
TECHNOLOGY
Another noteworthy feature that will catch the eye of many outdoor enthusiasts is the topographic map trails that include more than 1,000 curated trail maps, powered by NeoTreks' AccuTerra® Maps (https://neotreks.com/maps/), Trails Offroad trail guides and FunTreks trail guides.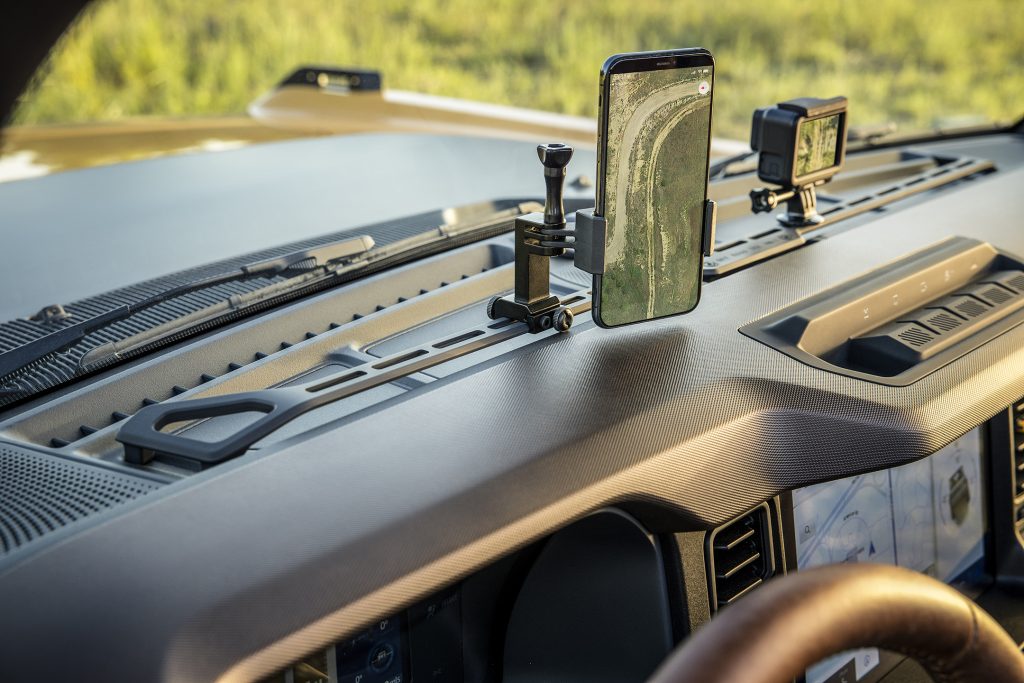 MY PERSONAL OPINION
"It's alive, it's moving, it's alive! It's alive, it's alive, it's alive! It's ALIVE!" - Frankenstein circa 1931. This is the nostalgic aroma dancing in the air when I think about a classic concept reimagined. After a 20-plus-year absence, the 2021 Ford Bronco derives a lot of its style and spirit from the original 1966 ancestor. What sets the new Bronco apart from its rivals, and indeed any other vehicle, are its modularity and customizable nature. You can remove body pieces, fenders, and doors with relative ease, and there are plenty of hidden hard mounting points for accessorizing to your heart's content. Personally, I am excited to get behind the wheel and reconnect with old memories while creating new and exciting adventures for this reincarnation of a timeless classic.
If you would like more information on how to obtain a new 2021 Bronco, please contact us here.
*Video provided by Ford Motor Company*