Top 5 SUV & Crossover Hybrids For 2019
Posted Friday, Nov 15, 2019
Author: Benjamin Rangel
Today, safety and the ability to fit our families in our vehicles are not our only concerns. Many of us want to be more friendly to the environment and get the best MPG possible. Well, good news! More and more manufacturers are adding hybrid SUVs and crossovers to their lineups. 
Luckily, we have a wide range of options in today's SUV and Crossover hybrid market, covering all bases from luxury to full-size versatility, as well as on and off-road capabilities. Consequently, if you're looking for the best SUV or Crossover Hybrid, then look no further. Evans Auto Brokerage Blog has the top five SUV and Crossover options to fit your needs.
1. 2019 Toyota Highlander Hybrid ™
Looking for a large SUV that specializes in fun and convenient family travels? Yes, then the Highlander Hybrid is the answer. It has a classy cabin with plenty of room and a long list of standard features. 
The hybrid powertrain delivers performance in more ways than one. One stand-out feature is powertrain that delivers good acceleration, especially at low speeds. As you'd expect from a hybrid, it's highly fuel-efficient for a midsize SUV. A quiet and roomy cabin that's meant to excel at getting you and your family where they need to be.
From a safety perspective, the Highlander is a great choice. It is rated a 5/5 with the NHTSA rating system.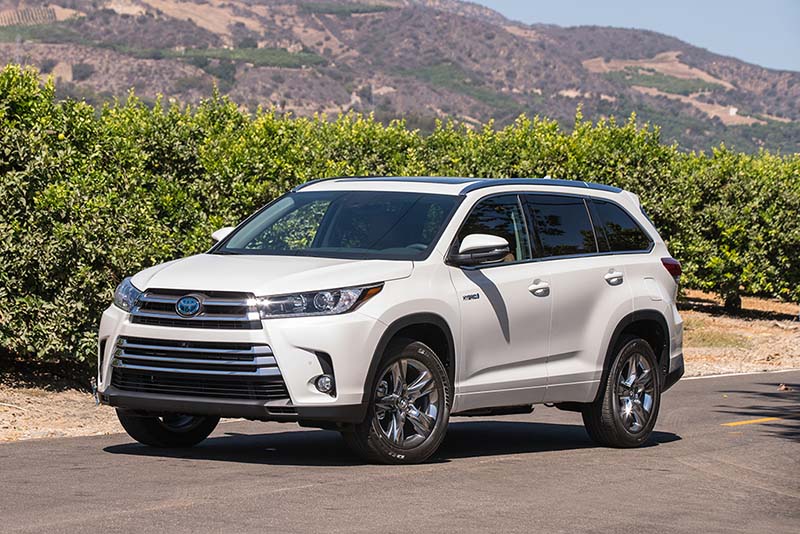 Seating: 7-8   MPG: City 30/HWY 28   Drivetrain: AWD Horsepower: 306
2. 2019 Lexus RX 450h Hybrid™
If you are more of the luxury crossover consumer,  the Lexus RX Hybrid should make your shortlist of must-see vehicles. It rides smoothly, handles well in the city and on the highway, and gets good fuel economy for a hybrid vehicle. 
Available with all-wheel drive, the 2019 450h achieves an EPA-estimated 31 mpg combined with its 3.5L, six-cylinder standard engine.  Inside, it looks great, feels upscale, and provides plenty of standard features and passenger space. The only drawback to note is the infotainment system, it has a nice size screen. However, it felt bulky and not user-friendly. We would prefer to see touch screen navigation on the entire system.  
When you think of luxury you also think safety, and the Lexus RX 450h delivers with a 5/5 from the NHTSA board. Earning that top-rated score is just another reason why the Lexus RX 450h makes the list.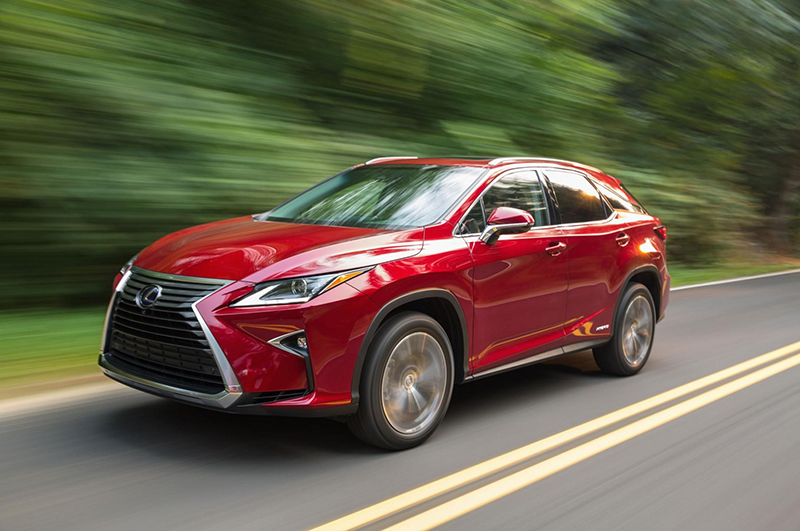 Seating 5-7   MPG: City 31/HWY 28   Drivetrain: AWD Horsepower: 308
3. 2019 Acura MDX Hybrid™
Another luxury brand, Acura offers the MDX, which is one of America's most-purchased luxury SUVs. When Acura added the MDX Sport Hybrid, it introduced an All-Wheel Drive powertrain technology to its SUV line-up that's more athletic than many other luxury hybrid and electric SUVs. 
The MDX utilizes the unique talents of three powerful electric motors and electric torque vectoring, delivering agile handling and plenty of power. A front-mounted electric motor built into the seven-speed dual-clutch transmission and a rear Twin Motor Unit provides instant torque. It rides smoothly, and it's more fuel-efficient than most rivals.
Not to be left out when it comes to safety the MDX hybrid also scored a perfect 5/5 from the NHTSA system.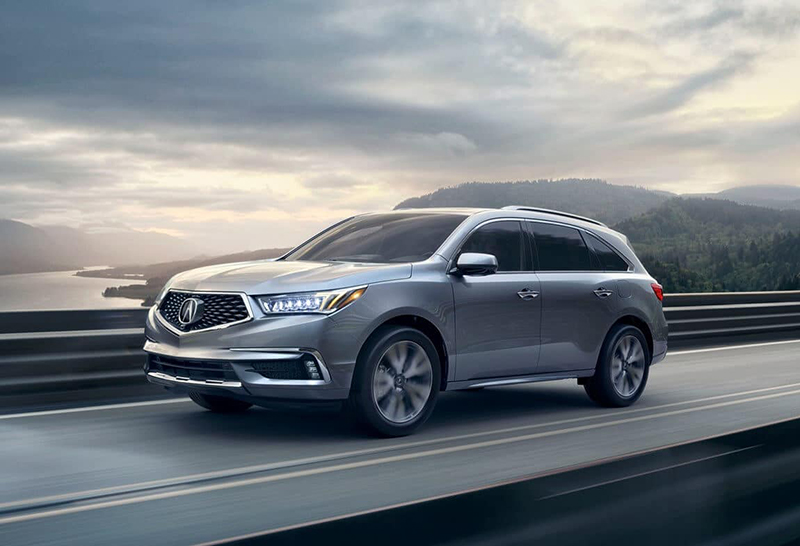 Seating: 6-7   MPG: City 26/HWY 27   Drivetrain: AWD Horsepower: 321
4. 2019 Toyota RAV4 Hybrid™
The Toyota RAV4 was the best-selling non-pickup in the American market last year. This compact SUV boasts strong and swift acceleration in nearly any circumstance.
All RAV4 Hybrids use the Toyota Hybrid System II that works in peace and harmony with the 2.5-liter four-cylinder engine. Inside, the RAV4's cabin serves up a modern design with premium materials. Offering outstanding cargo volume for a crossover, and rear-seat passengers enjoy.
Well, the RAV4 may be smaller, but it is safe also. It earned 5/5 by the NHTSA in 2019. This is one reason why so many choose this as their SUV of choice.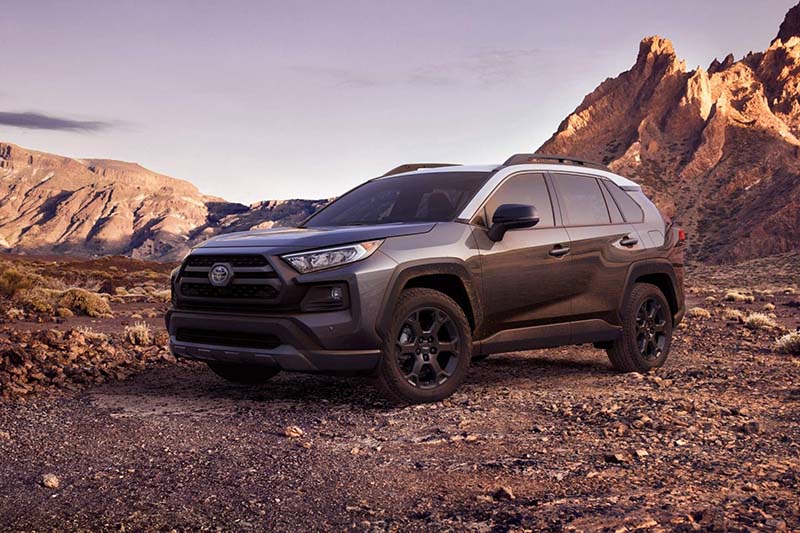 Seating: 5   MPG: City 41/HWY 38   Drivetrain: AWD Horsepower: 219
5. 2019 Nissan Rogue Hybrid™
The Nissan Rogue Hybrid is a good choice among the mid-sized SUVs in this class. It combines a 2.0-liter 16-valve aluminum-alloy inline four-cylinder engine with a single electric motor and unique two-clutch control. The system also includes a compact lithium-ion battery, idle start/stop system and an intelligent regenerative braking system. 
Nissan has a smooth ride and a mostly upscale cabin. Along with excellent safety scores, the Nissan Rogue Hybrid features ample cargo space, and it even comes standard with all-wheel drive. Well, it did have a smooth ride, outside noise did seem noticeable with all of the windows in the fully closed position. 
When it comes to safety, Rogue does have room for improvement, as it scored a 4/5 by the NHTSA. With the 2020 model rolling out soon we hope to see them achieve a perfect score in the coming months.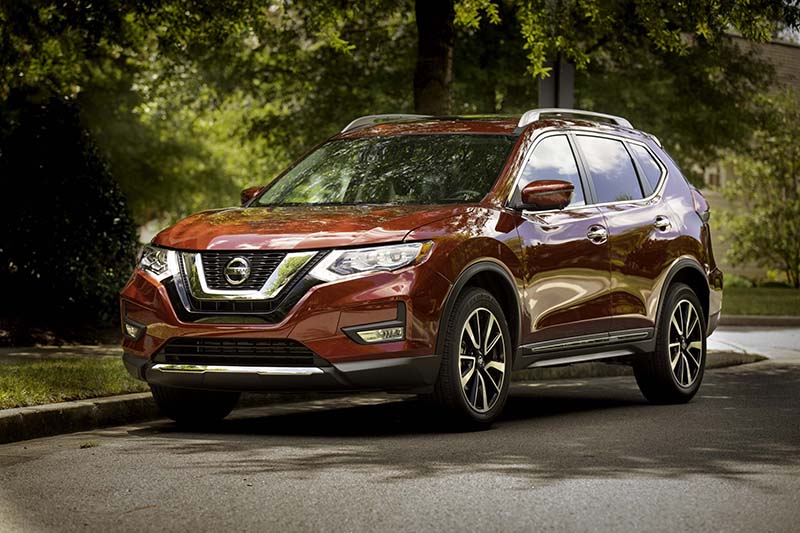 Seating: 5   MPG: City 33/HWY 35   Drivetrain: AWD, FWD Horsepower: 176
Given all the efforts that automakers have put into their new SUV and Crossover offerings: MPG, Creature comforts, torque through new technological powertrains,  and touch screen infotainment systems. One thing is certain, there's never been a better time to buy or lease, an SUV or Crossover Hybrid.
If you have any questions on these models or their gas engine counterparts,  feel free to contact us.
Tags: Acura, Acura RDX, Toyota, Toyota Highlander, Nissan, Nissan Rogue, Toyota RAV4, Lexus, Lexus RX, Hybrid, Crossover